ICC Prestressed Concrete Online Training Course
Course Includes
90 Day Course Access

Interactive Training Plan Set

Insightful Audio Instruction

Code & Plans Practice Tests
Detailed Charts & Illustrations
Buy Now - $449
Plan Reading Training That Actually Works
Our four-step process for teaching plan reading will give you the confidence and skills to pass the 92P Prestressed Concrete Plans Exam. Check out this video to learn more.
Course Includes
90 Day Course Access

Interactive Training Plan Set

Insightful Audio Instruction

Code & Plans Practice Tests
Detailed Charts & Illustrations
Buy Now - $449
References Needed
These references are required for course study and for the test. Purchase of our courses do not include these references.
ACI 318-11 or ACI 318-14
American Concrete Institute 318 2011 or 2014 Edition
MNL 116
Manual for Quality Control for Plants and Products of Structural Precast Concrete Products, 4th Edition
2 ASTM Standards
ASTM A416-06 (or later), ASTM A421-02 (or later)
Post Tensioning 3-Part Set
This can be purchased as a complete set through www.iccsafe.org
PTI M10.3-00 Field Procedures Manual for Unbonded Single Strand Tendons
3rd Edition (2000)
PTI M10.2-17 Specifications for Unbonded Single Strand Tendons
3rd Edition (2017)
PTI DC35.1-04 Recommendations for Prestreassed Rock and Soil Anchors
4th Edition (2004)
What About the Codes Exam?
As you can see, we spent a lot of time and effort with the plan reading training. That doesn't mean we forgot about the code. We also teach people how to pass the 92C Prestressed Concrete Codes Exam.
12 Modules About the Code
The course has 12 modules to prepare you for the ICC test. These modules cover the subjects needed to pass the test.
Intro to Tensioning Systems
Post-Tension (PT) Preliminaries
PT Install & Concrete Placement
PT Stressing, Elongation, & Finishing
PT Encapsulated Systems
Unbonded Single Strand Specs
Rock & Soil Anchor Systems I
Rock & Soil Anchor Systems II
Precast Overview, Systems & Materials
Precast Concrete & Prestressing
Precast Quality Control & Tolerances
ASTM Standards, IBC, & ACI 318
Post-tension special inspectors are in high demand for construction projects such as high rises and parking garages. With this course, you'll learn skills to get certified and improve your career. We'll teach you about post-tension, pre-tensioning, and precast plant operations. You'll learn why post-tensioning is used from a structural engineering perspective.
How to Remember the Material
Research from education experts shows that taking quizzes regularly is one of the best ways to learn. Therefore, at the end of each module, you'll take a quiz. These quizzes are very important for letting you know if you understood the material. If you did well on the quiz, you can move on to the next module. But if you struggled, we advise you to review the module again.
When you're done with all the code modules, you can take a timed practice test that looks like the 92C Prestressed Concrete Codes Exam.
Frequently Asked Questions
Q: Are you recognized by ICC?
A: Yes, we are an ICC Preferred Education Provider.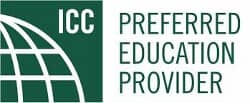 Q: How many CEUs can I earn with this course?
A: This is a 30-hour course so you get 3.0 CEUs when you successfully complete it.
Q: How much does the course cost?
A: $449.
Q: How long do I have access to the course?
A: 90 days.
Q: How many digital plan sets are included?
A:1.
Q: What does the course look like?
A: We understand that a text-only course is not very engaging so we use lots of audio and pictures to teach you the material. Our course looks like a magazine more than a book. One of our founders is skilled in web design and he made the course look great.
Q: I get nervous when I take tests. How can you help me?
A: Being anxious on test day is common. There's a lot at stake because passing the exam means you can earn a higher salary.
At the end of the course, before you take the practice tests, we have module called "Test Taking Preparation". In this module, we give you valuable tips on what to do during the ICC exam.
We'll teach you how to use the notepad and how to organize your workspace. You'll learn tips about time management, pacing, and multiple-choice strategy.
Also, don't be afraid to ask us questions by clicking the chat button on the bottom right of the course.
We've found that being prepared is the best way to calm your nerves when taking the exam. We want you to be prepared as much as possible so if you're not sure about anything, leave us a question in the chat box and we'll reply within 24-48 hours with expert advice.
Student Reviews
We created one of the first online Prestressed Concrete exam prep courses. Since then, we improved our teaching methods so the course got better and better.
But don't take our word for it. Here are some great reviews from students who got certified in Prestressed Concrete because of SI Certs.
Passed Reinforced Concrete and Now Prestressed Concrete
I passed the prestressed concrete exam and I was able to finish it in about 2 hours and 30 minutes. Thank you very much for your assistance and solving my understanding, which might be the cause of failure from my previous exam attempt. The way you have designed your course is very informative, easy to understand and helpful for a person coming from the civil engineering field.
I am an engineer with Master's of Civil Engineering degree. I am EIT certified and in process of getting my PE license. I have used SI Certs to pass the Reinforced Concrete and Prestressed Concrete exams. I will definitely recommend your course. Thanks for all your help!
Dip M.
Highland Park, NJ
The Program Works. I'm Certified in Prestressed Concrete.
I took my test today and if it was not for the use of SI Certs' web based study program for Prestressed Concrete, it would have taken me much longer to study and pass the test.
SI Certs lays out the study material in an easy to follow and interesting format. The use of the plans was extremely helpful, as having to locate a good set of PT plans would have been a challenge.
I would recommend SI Certs to anyone looking to get the PT certification. Again thanks SI Certs for the work you did in putting this program together. Well worth my money. Having used their course made me feel very comfortable going into the test.
Jeffrey A., SET
Hartford, WI
I Passed Prestressed Concrete. Everything you said was true.
Remember how I told you I took a PT class elsewhere and failed? Now I've taken your course and passed! Thanks again.
Everything you said was true. The plans you have are better than my other school and I finished the code in 1 hour and plans in 1 hour 20 mins. Looking to start masonry next.
Cole S.
Tustin, CA
Passed Prestressed Test
Great course – I passed with flying colors, in half the allotted time! The plans on the test were difficult, but the SI Certs tutorial plan sets prepared me for the test plans. Thank you again.
Dave B.
Kennewick, WA
Passed the Prestressed, Bro. Thank You!
Doing Masonry with you right now...
Jimmy J.
Wahiawa, HI